We have hundreds of models to choose from. A few of our specials: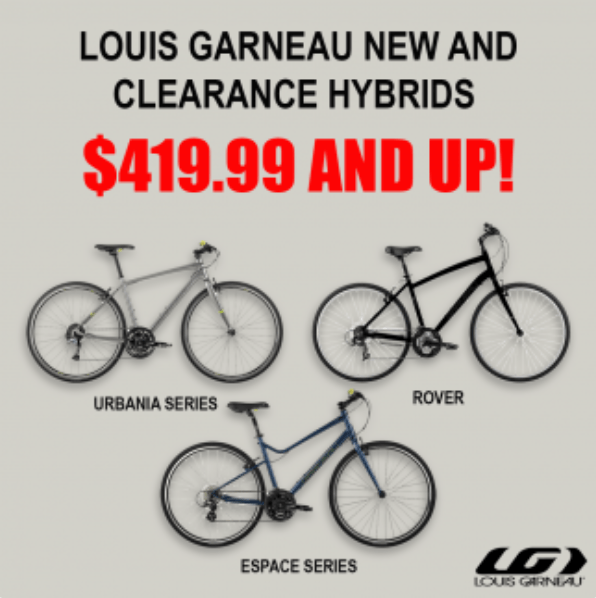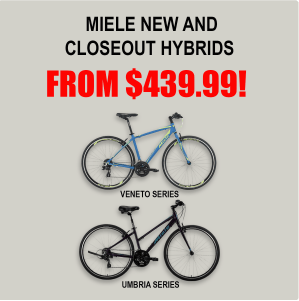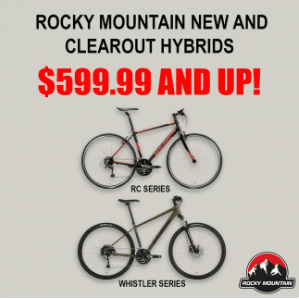 Call 604-879-6000 for current inventory, we don't always have time to update the website and sizing options may not be correct.
Sports Junkies carries  new hybrid bikes from Louis Garneau, Fuji, Reid and more!
Our bike department has tons of new hybrids to choose from at some of the lowest prices in the city. We pride ourselves on having the best selection of NEW and CLEARANCE models from:
Our hybrid bike options don't end at new. Sports Junkies also has top notch USED hybrids from many other big name brands. The selection is always changing, so we suggest stopping by to see what we have.
When you're in the store, you will be greeted by our knowledgeable and friendly bike staff. They are a team of avid cyclists, and trained mechanics alike. Due to this, they will be able to fit you up for the right bike and answer any questions you throw at them!
Is a Hybrid Right for You?
Hybrid bikes are an all round bicycle that can be used for many purposes. They're excellent for commuting, weekend adventures, staying fit, and so much more.
Most hybrid bicycles are multi purpose, yet you will find different models will have areas where they are stronger. Some are more suitable for riding on paved roads, while others are better on dirt paths.
Knowing which Hybrid bike is best for you isn't always easy. Come into Sports Junkies and let us help you find the right bike for your needs!
We have hundreds of models to choose from. A few of our specials: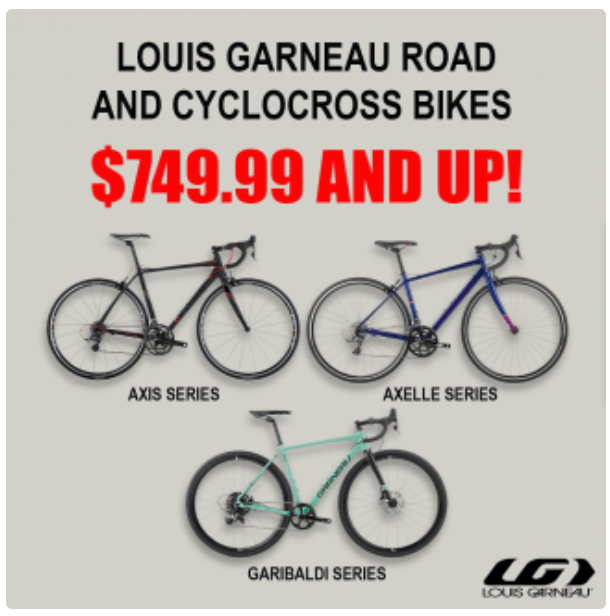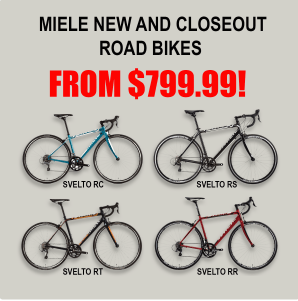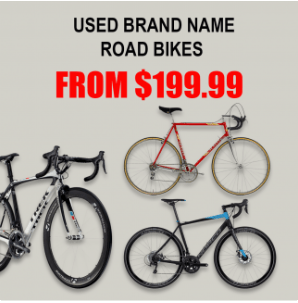 We have a great selection of road and gravel bikes at unbeatable prices. Call 604-879-6000 for updated inventory sizing options, we don't always have time to make changes to the website.
We carry all types of road bikes, from entry level to high end. You'll find NEW and USED road bikes from Louis Garneau, Breezer, Fuji, Reid and more!
Beyond our great selection, you'll also find the best prices in Vancouver on road bikes. We offer used, clear out and new road bikes. This means you'll definitely be able to ride out of here on a bike in your price range!
Is a Road Bike Right for You?
Road and Gravel bikes have multiple uses for riding , including:
Fitness
Commuting
Event or Competition Riding
Touring Racing
Cyclo-Cross or Urban Cross
If you fit into one or more of these categories, you may be in the market for a road bike…
Keep in mind, most road bikes have drop-bar handle bars and will put you in a more aerodynamic position than other types of bikes. This is good if you are looking to go fast with the most efficiency. However, if you aren't flexible or haven't ridden this type of bike before, you may find it a bit difficult at first.
We have hundreds of models to choose from. A few of our specials: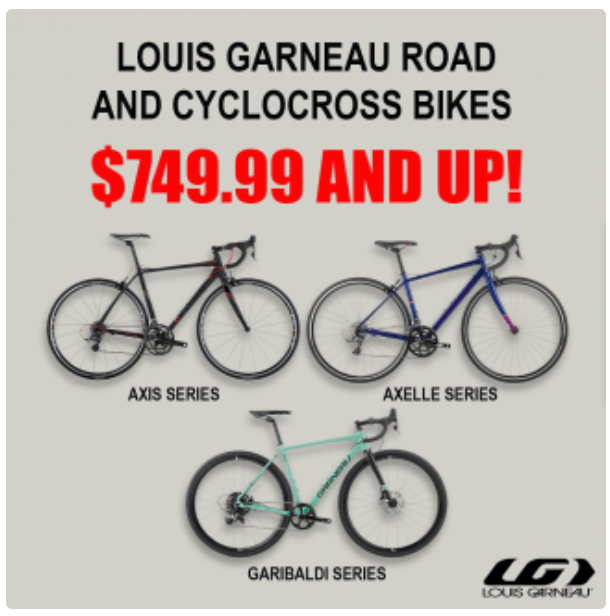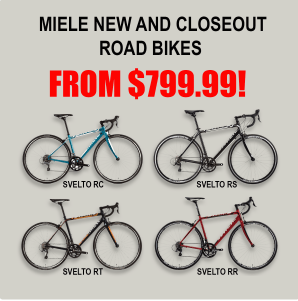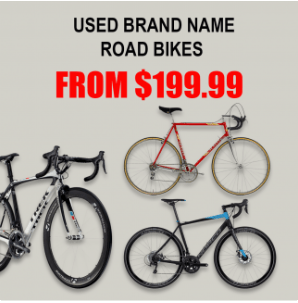 Come by and check out our mountain bike selection today! Call 604-879-6000 for a updated list of models and sizes. We don't always have time to change the website.
When you come into the store, you'll nice selection of new and used Cross-country,  Enduro, Trail and Downhill bikes, including:
26's
27.5's
And 29 ers
In NEW mountain bikes we carry Rocky Mountain, Fuji, Genesis and Reid. However, keep in mind that we get USED bikes in daily from other top name brands.
In addition to having great choice, you also get excellent prices. We buy new, closeout, and used mountain bikes in order to give you the most options for the best price.
Check out our bike department for the full selection and pricing. Avid cyclists, and trained mechanics alike, our team can help you find exactly what you need for your cycling adventures.
Is a Mountain Bike Right for You?
Mountain Bikes have come a long way and there is no longer just one type to choose from. Due to this, it is important to understand each style of bike and what it's for.
Coming into the store to talk to one of our bike experts is your best bet when trying to figure out what's best for you. However, here is a quick run down of the types of Mountain Bikes we carry:
Cross-Country
Are you looking to get fitness and distance in with your downhill decent? If so, a cross country bike might be for you. Most cross country bike trails consist of just as much climbing as there is descending. Therefore, cross country bikes are usually lightweight and have front suspension with a hard-tail. This is to make your longer pedaling stints just a little bit easier.
Trail
Trail bikes are also great if you want to rip the trails, but still want the ability to climb with ease. However, they can handle a bit more than a cross country bike. The geometry of the bike makes it easier to handle in rough terrain.
Enduro
Do you dream of going down steep and aggressive terrain at a fast pace? Well, that probably means you are in the market for an all-mountain bike.  These bikes are generally a bit more substantial than a trail bike, but not as heavy as a downhill bike. Due to this, you'll be able to attack tougher terrain and big hits while still being able to climb if needed.
Downhill
These bikes are generally not made for any sort of climbing, they are made to go fast and handle intense terrain. Therefore, downhill bikes are great if you plan on riding in a park or somewhere that you can shuttle.
We have hundreds of models to choose from. A few of our specials: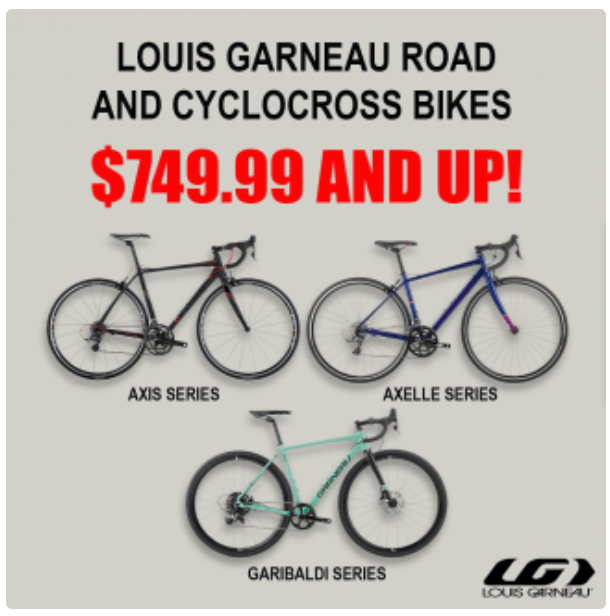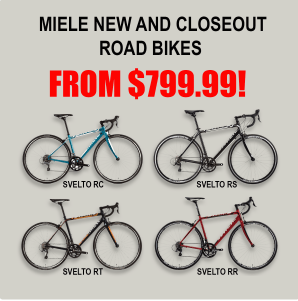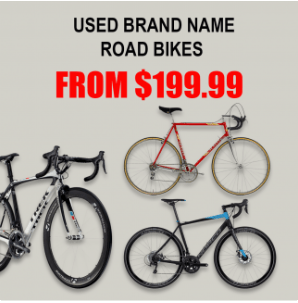 Have fun, ride a bike! Sports Junkies has lots of kids bikes to choose from in New and Used!..
Sports Junkies prides itself on having the best selection of new and used kids bikes at unbeatable prices!
You'll find new and clearance bicycles from Louis Garneau, Rocky Mountain and Reid, as well as tons of other options in used kids bikes. Finding the right size won't be a problem, we carry all sizes from Push Bikes to 26″ Wheels.
Plus, we also have some of the friendliest and most knowledgeable staff in the city. Don't be afraid to stop by and see us, we will be glad to help you get started!
How to Choose the Right Kids Bike
First of all, we suggest coming into the store to get sized up properly. All kids are built differently and the same is true for kids bikes. As a result, the typical sizing may not work. That being said, let's take a quick look at the basic outline for kids and youth bike sizes:
12″ Wheel –  3 to 4 years old.
14″ Wheel – 4 to 5 years old.
16″  Wheel – 5 to 6 years old.
20″ Wheel – 6 to 8 years old.
24″ Wheel – 8 to 12 years old.
26″ Wheel – For youth or petite adults that are too tall for a 24″ wheel bike.
A few other things to keep in mind when purchasing a children's bike are:
It's best to start a 3 to 5 year old on a push bike, rather than training wheels. Therefore allowing them to develop there balance first, making the progression up to a pedal bike much smoother.
A lighter bike is much better than a heavy one. This will most certainly make the learning process less painless for a child, as the bike will be much easier to handle.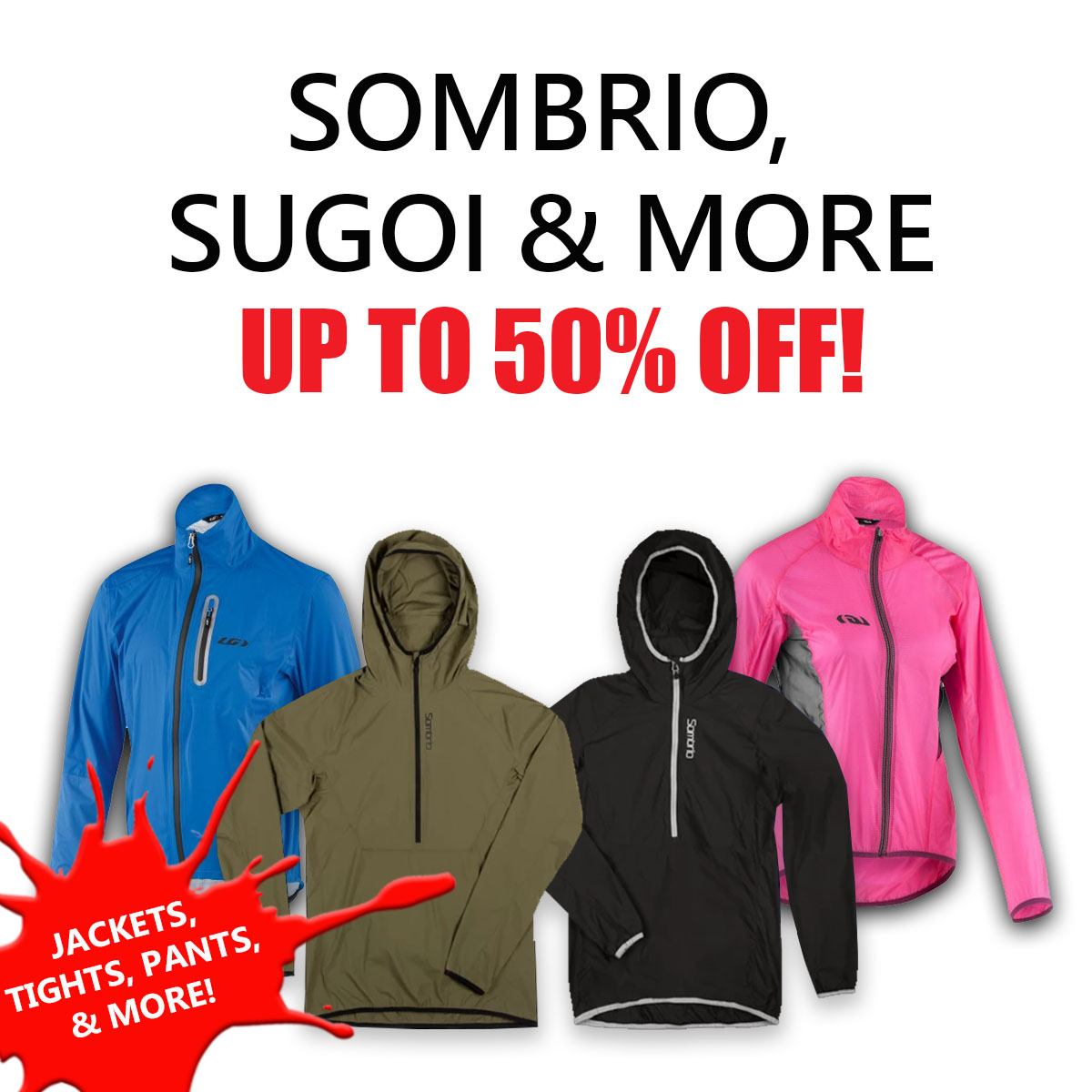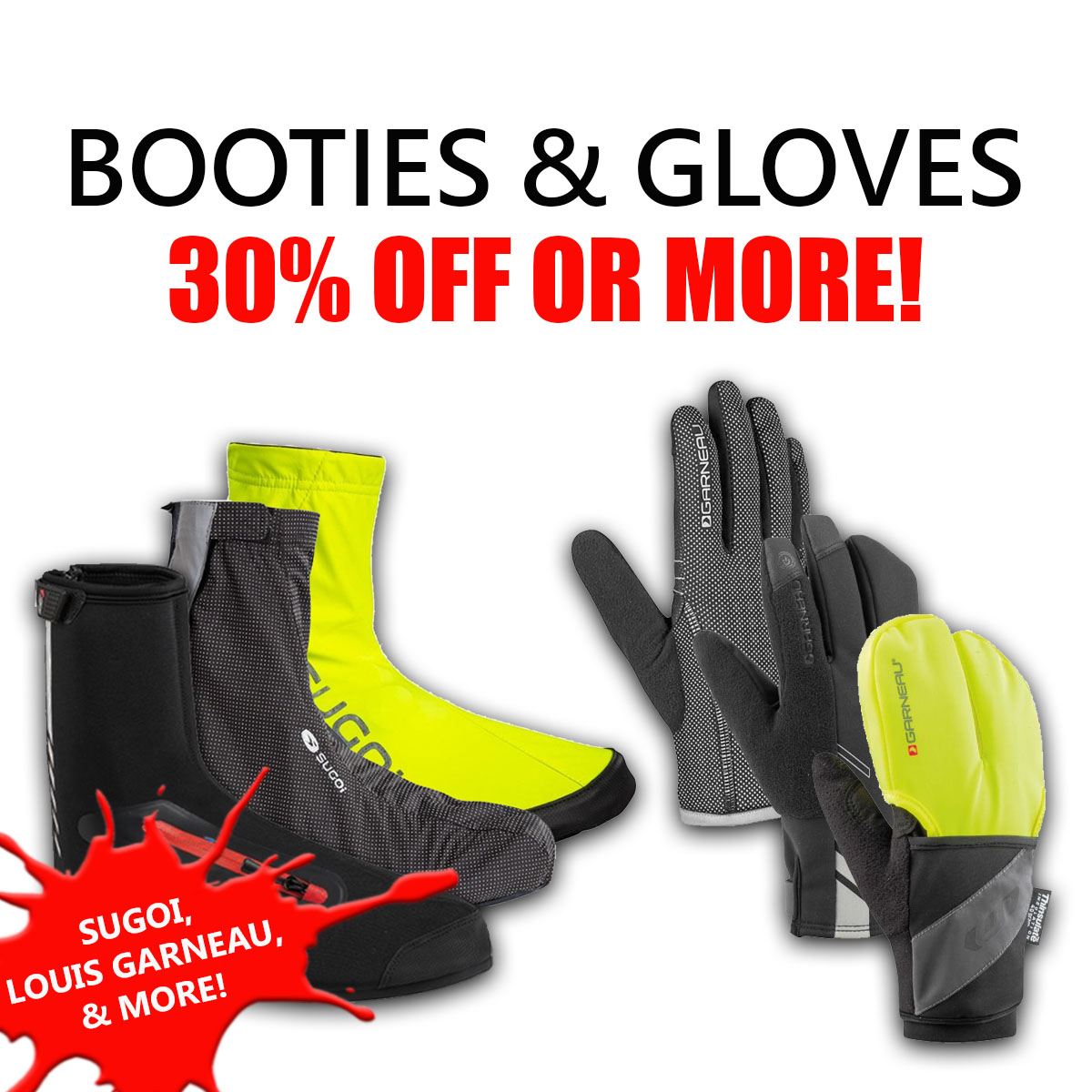 Check out our amazing deals on bike accessories, gear and clothing. You won't be disappointed with our huge selection!
Just in new cycling essentials from Sugoi, Sombrio, and Louis Garneau. Come in today and save up to 50% on all cycling clothing. This includes:
Thermal, waterproof, and convertible jackets.
Tights and waterproof rain pants.
Thermal and waterproof gloves, booties and caps.
Stock is limited, come get a deal before it's gone!
In addition to clothing we also  carry a huge selection of  accessories at up to 30% off the retail price. You'll find everything you need from many top name brands, such as Ortlieb, Shimano, Evo, Abus, Nalini, Axiom, Pearl Izumi and more.
You'll find:
Panniers
Frame bags
Bar bags
Baskets
Fenders
Bells
Locks
Saddles
Bike Shoes
Helmets
Bike Parts
And so much more!
The best way to see what we have is to come into the store. The bike department is located in the upstairs and is now bigger than ever! Be aware, you may get lost in all the fantastic options. However, we always have excellent staff on hand to help!
We have hundreds of models to choose from. A few of our specials: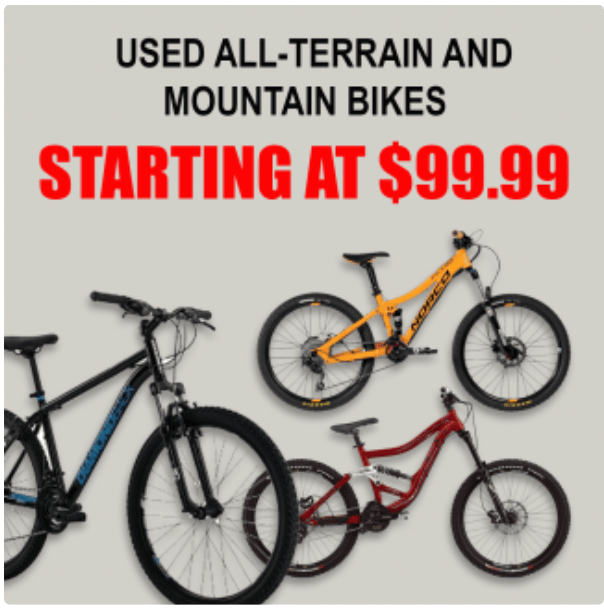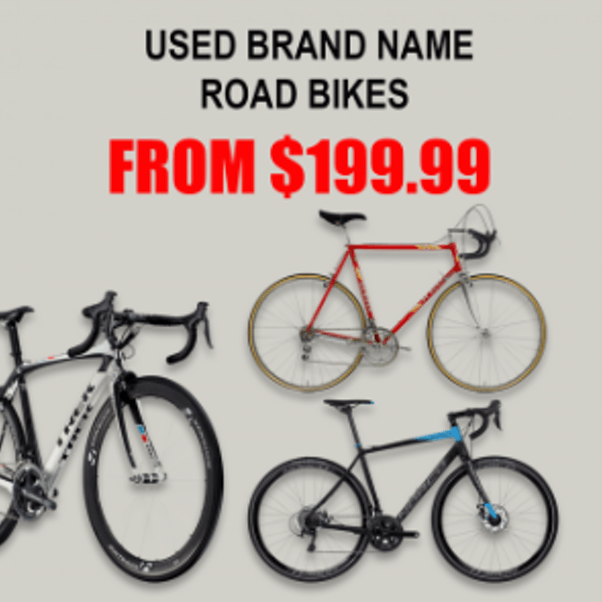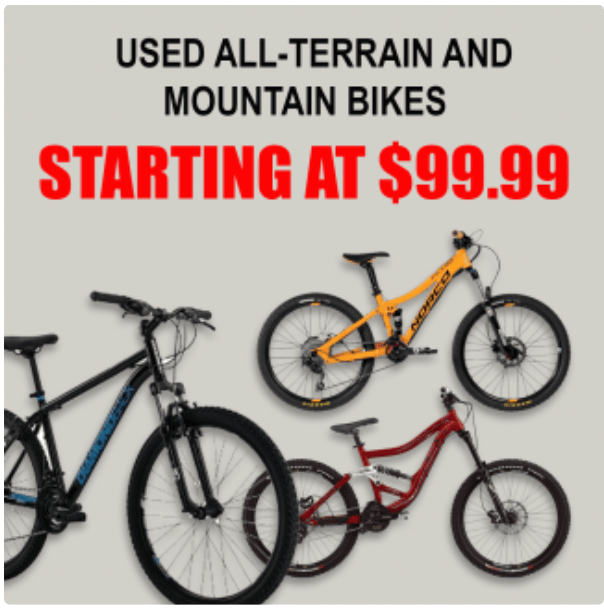 Sports Junkies has one of the largest selections of used bike in the Vancouver!
We have a huge stockpile of used bikes and our inventory is always changing. Due to this, we don't list our inventory on the website. However, it's more than likely we will have something that will work for you!
When you are ready to start you search, we suggest coming by the store. We do list some of our bikes on Facebook marketplace, but you will have have to come in person for the full selection. You will find our used bikes lined up outside of the store and inside on the second floor.
Come by and talk to one of bike experts today. We will get you out and riding in no time!
Sell your Bike gear
If you have a used bike you want to sell, we would love to have a look! Just be aware, we don't buy every bike that comes in the door.
There are a few factors that go into buying bikes, including:
Our need for the particular bike you are selling.
The condition of the bike. The bike should be in full working order.
You're probably wondering….
How much do we pay for bicycles?
This is unfortunately a question we can't answer without seeing the bike. All bikes are different and will have their own specific values.
What do I need to sell my bike?
There are strict by-laws we have to comply with and you'll need a BC driver's license or a passport, no other forms of ID are accepted. We run all of our bikes through police check in order to avoid buying stolen bikes.
For further details, please read over our purchasing policy page.
Bikes perform best with regular maintenance.
Below is pricing on a few of the services that we provide. For next day service please call 604 879 6000 and ask for the bike department to make an appointment.
---
| Bike Service Rates | |
| --- | --- |
| Complete quality Tune Up | $59.99 |
| Wheel Build | $50.00 |
| Flat Repair or Tire Install | $9.00 |
| Chain Install | $9.00 |
| Cog Install | $9.00 |
| Complete Headset Overhaul/Replacement | $35.00 |
| Bottom Bracket Overhaul/Replacement | $30.00 |
| New Disc Pads Pair Install | $12.00 |
| New Pads Pair | $9.00 |
| Rear Hub Overhaul | $25.00 |
| Front Hub Overhaul | $18.00 |
| Cable Replacement | $10.00 |
If you have something more specific in mind that you need help with feel free to drop in or give us a call at 604 879 6000 and ask for the bike department.